Compression Check: Testing and Inspection
STANDARD PROCEDURE – COMPRESSION TESTING ENGINE
COMPRESSION SPECIFICATIONS
1. Warm up your T1N 2.7L Diesel Engine to operating temperature (approximately 80°C, 176°F).
2. Shut off Sprinter van engine.
3. Remove Sprinter van engine cover.
4. Remove 2.7L Sprinter glow plugs.
5. Crank engine several times with the starter to eliminate combustion residues in the cylinders.
6. Insert compression tester adapter # 8927 with check valve installed into glow plug hole of cylinder to be tested.
7. Connect compression tester hose adapter # 9295 to compression gauge and test compression pressure by cranking engine with starter for at least 8
revolutions.
8. Perform test procedure at the remaining cylinders in the same manner as you did the first.
9. Compare pressure readings obtained with the specified pressures. If the pressure reading is below the minimum compression pressure or if the
permissible difference between the individual cylinders is exceeded. Refer to cylinder leak down test. See: Testing and Inspection/Cylinder Leak
Down Test
10. Remove T1N Sprinter compression tester and adapter from cylinder head.
11. Install glow plugs.
12. Install engine cover.
---
Procedure for using T1N 2001-2006 Sprinter Van 2.7L Diesel Cylinder 1000 Psi Compression Tool Kit
Equipment Required:
–
Diesel Cylinder 1000 Psi Compression Tool Kit Click Here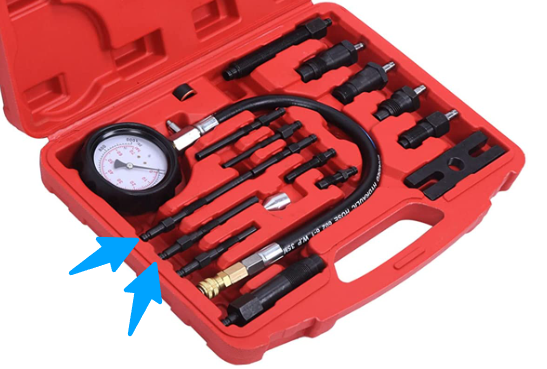 –