Description
We exclusively work with Specialized Applications to construct custom hardware and electrical components to work with the 2001-2006 Sprinter Van.
AMP Research invented the PowerStep™, the automatic, electric-powered running board that instantly extends when you open your door, and retracts out of sight when the doors close for improved ground clearance, aerodynamics and appearance. 
Its sleek design, all-weather performance and legendary reliability set the industry standard. PowerStep™ has die-cast aluminum alloy components and precision stainless steel pivot pins for rock-solid stability. The original PowerStep™ is American designed and engineered.
INSTALLATION
Includes all T1N 2001-2006 Sprinter Van hardware necessary for installation. Product comes with easy to understand vehicle specific installation instructions. Be sure to read and precisely follow the provided
instructions when installing
T1N Sprinter PowerStep™ Power Running Boards.
FEATURES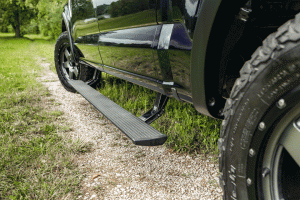 AUTOMATIC, ELECTRIC-POWERED
Automatically deploys and retracts to make getting in and out of your vehicle safer and easier
LED LIGHTING
Low-profile integrated LED light system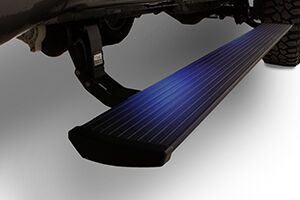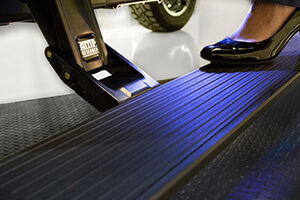 AMP Powerstep for the T1N 2001-2006 Sprinter Van Running boards 3
DURABLE BLACK TEXTURED FINISH
Step anodized and PTFE coated military spec finish that resist corrosion and wear and tear