Description
Black Weather protecting Floor Mats for your Dodge Sprinter Van floorboard.
If you are looking for protection of the floor of your 2001-2006 T1N Dodge or Freightliner Sprinter Van these are the All weather T1N rubber floor Mats for you.
Winnebego View Sprinter Van Owners you may need to cut a little notch where you may have a storage box between the Seats. (see pics below)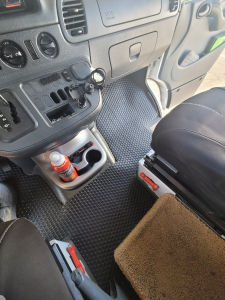 We are an Authorized Lloyd Mat Dealer  
Lloyd Mats are proudly made in America since 1978. Lloyd Mats incorporated in 1974, making specialty carpet products and tapestries.
The manufacturing of T1n Sprinter Van custom fit floor and cargo mats for the automotive aftermarket began after the launch of Lloyd in 1978.
Number of mat pieces included: 1  – 11.3 lbs. is the total weight of the mat and shipping materials –
Color: Black – The size of the mat is around 34 x 23 x 12 inches
Warranty: 3-year manufacturer warranty
need help removing rubber floor mat in sprinter t1n source
T1N Sprinter Van RUBBERTITE-FEATURES
 A Lloyd Mats exclusive —the ONLY custom-fit rubber mats for all vehicles. Attractive, contemporary design mats protect factory carpeting from water, sand, dirt and spillage while complimenting the interior.• Heavy-weight composition rubber
• Molded high capacity "wells" capture moisture, dirt and debris
• Excellent for use in beach, desert, rainy and snowy environments
• Custom fit from over 10,000 precision master patterns
• Computer cut for precise fit
• Available for front and rear passenger, trunk and cargo areas
• Includes many one-piece, wall-to-wall and over-the-hump patterns
• Offered in Black, Light Grey, Grey, Ivory, Tan, Pink, Red, Burgundy, Yellow, Brown, Blue and Crystal Clear
• Easy to clean —simply hose off the mats
• Mat surface has non-slip texture for extra safety
• Non-skid nib backing helps hold mats firmly in place
• Factory-compatible mat fasteners (post, hook, snap) anchors where applicable
• Easy-to-install Lloyd anchors for vehicles not equipped with anchors
• Absolutely stays put for optimum safety and durability
• 3 year warranty against defects in design, workmanship and materials
If you're looking for rubber T1N Sprinter mats that withstand sub-freezing temperatures and hold water, snow, mud, and spills, RubberTite all-weather car mats are a perfect choice.
These high-quality 2001-2006 Sprinter floor mats can hold a great deal of water, protecting the original carpet below. Even sand particles will stay in place until you clean the mat. Just hose the rubber material with water to get it clean.
These vehicle floor mats are made of a heavyweight composition rubber. Even in temperatures below freezing, this durable material will retain its flexibility.
Factory-compatible anchoring devices are pre-installed. You can also use Lloyd's anchor hooks, which are easy to install. Both options keep these premium rubber car floor mats in place, with additional traction provided by the rubber nibs on the backing. On top is a textured design that prevents skidding.
Our RubberTite custom-fit floor mats are available in over 10,000 patterns, in Crystal Clear, Black, Grey, Light Grey, Tan, White, Ivory, Red, Pink, Yellow, Dark Blue, Brown, and Burgundy. Lloyd Mats Store has a durable all-weather floor mat for nearly any car, truck, van, or SUV sold in the U.S. since 1950!
You'll find matching custom floor mats no matter what type of vehicle you drive at Lloyd Mats Store.
2003-2006 Winnebego View Sprinter Van Owners you may need to cut a little notch where you may have a storage box between the Seats.
See below Piece that was cut from the mat to fit the around the middle console of a Winnebego Sprinter Van RV