Description
Swivel Seat Adapters for all 2001-2006 Dodge, Freightliner & Mercedes Sprinters
(fits all T1N models with 5 cylinder engine)
AMZ T1N sprinter swivel seat Adapters
These Seat swivels have been tested to be very very strong. These are crafted to have the most surface pivot area between plates to limit,
and minimize the chance for that annoying creaking and squeaking.
CLICK HERE to see the Sportscraft Seat Swivel Adapters
Hello if you have a Winnebego View, or other RV T1N Sprinters.
The swivel may get in the way of the Trap Door that opens in between the seat.  It still fits and works.
Call us for more info.
Past DOT FMVSS 207 Test 
USDOT FMVSS 207 Lab Test Report
According to the TRC Inc. Lab (Cert. U.S. DOT Test Lab) Test Report, these T1N Sprinter Swivel Seat Adapters survived by a PULL TEST that exerting 34,000 Newtons force (7643.50 Pounds-Force) on the seat. This means the swivels' results were at least 4 times higher than the U.S. DOT standards.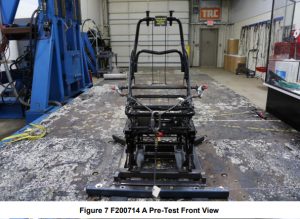 U.S. DEPARTMENT OF TRANSPORTATION LABORATORY TEST PROCEDURE FOR FMVSS 207 Seating Systems TP-207-09a
Please Understand. If you Seat Base Pedistal is not square and tapers inward at the top.
this swivel will have a small over hang. It does not effect the functionality. But cosmetically it would then not be a perfect total fit.
But 99% of T1N Sprinter owners, except this universal size and are happy with this swivel.
OFFSET PIVOT
These seat swivel adapters are specifically for the passenger side or driver side of your Sprinter Van.  The center pivot (hole) is offset and is away from the door thus to allow for the Factory or Aftermarket T1N Seat to pivot without opening the door. Swivels rotate on industrial high grade nylon that give the seat swivel adapter and quieter and smoother spinning action.
Driver Side Seat Swivel specifics:
Driver's side swivel does not include hand brake adapter. Raises seat height approx. 1.55″. May interfere with auxiliary battery under passenger seat. (5 cyl. models only)
These work with most Sprinter front seats, (will not work with suspension seats) and will work with the heated seat option. Swivels lock securely in the forward facing position.
2001-2006 T1N Sprinter Van Seat Swivel Compatibilities:
Sprinter Types:
2005 Sprinter Van / 2004 Sprinter Van / 2003 Sprinter Van | 2002 Freightliner Sprinter Van | 2001 Freightliner Sprinter Van
The 2005 sprinter swivel seat are the same swivel adapter as from the 2001 until the 2006 Sprinter Vans last year as a 5cyl Sprinter Engine was included on Sprinters Vans.
T1N Sprinter Van Seat options:
Swivels include instructions and all hardware needed. (Does not include driver side brake plate)
T1N Sprinter Seat Swivel Adapters Installation Help.
Looking for Instructions to install your 2001-2006 T1N Sprinter Van Sportscraft Seat Swivel Adapters? Click Here
Need more help? Check out our T1N Sprinter Seat Swivel Help Section. AMZ Swivel Printable instructions and videos are available as well.