Description
T1N 2001-2006 Sprinter Van Trailer Brake Controller – RED44FR
Free Shipping
Features:
Brake controller activates trailer brakes in proportion to your vehicle's braking action

Automatically adjusts trailer's braking based on deceleration of tow vehicle
Activates immediately – no pausing like with time-delayed brake controllers

Control knob mounts in dash or other easily accessible area

Allows for fast and easy adjustment of braking power with turn of the dial
Lets you switch from proportional braking to user-controlled mode
Provides accessible manual override – just press the knob to activate
Offers simple diagnostics with bright, colored LED

Wiring harness hardwires into your vehicle's wiring and then plugs directly into the main unit
Main unit installs out of sight

No more banging your knee on a bulky controller
No interference with airbags or other vehicle accessories
No hard-to-reach override lever or impossible-to-read screen

2 Different braking modes available

Set in proportional mode for everyday use
Get absolute control over trailer's braking activity with user-controlled mode – great for off-roading

3-Axis accelerometer measures deceleration in all directions for precise braking and smooth, uniform stopping action

Can be mounted at any angle and will still accurately sense the deceleration of your vehicle

Active calibration technology continuously monitors your direction of travel and adjusts brake response accordingly
Meets or exceeds both UNECE R21 and FMVSS 201 regulations for sustainability and safety
Made in Australia
Electric

Electric over Hydraulic
Proportional Controller
Redarc
Up to 3 Axles
Hidden
Indicator Lights
Mount the control knob of this proportional controller on your dash and set up the main unit in an out-of-the-way spot. Unit works no matter its positioning. User-controlled mode is great for all types of terrain in all types of weather.
Specs:
Application: trailers with up to 3 axles (6 brake assemblies)

Designed for use with electric or electric-over-hydraulic trailer brakes
Works with 12-volt and 24-volt vehicle electrical systems

Main unit dimensions: 4-3/32″ long x 3-11/32″ wide x 1-1/8″ tall
Control knob dimensions: 1-7/8″ long (including knob) x 9/16″ wide x 3/4″ tall

Length without knob: 1-1/4″

Output voltage range: 9V – 32V
Output current rating: 25 amps continuous
Maximum charging voltage: 12V DC
2-Year warranty
Proportional Braking
With a proportional brake controller, you can get heavy-duty emergency braking, general braking or slow-to-an-idle braking for your trailer automatically. The intensity with which your trailer brakes are activated and the rate at which they are applied are dependent on the deceleration of your tow vehicle. This means that, unlike time-delay controllers – which send the same amount of preset power to your trailer brakes every time – proportional controllers are able to adapt to every braking situation differently. So, if you slam on the brakes in your truck, your trailer brakes will activate with that same extreme intensity. And if you merely slow down as you approach a red light, your trailer will gradually brake in the same manner.
Once the Tow-Pro Elite is mounted, it will sense – via an internal 3-axis accelerometer – how your tow vehicle brakes. This inertia-based sensor responds to the deceleration of your tow vehicle as you brake by signaling the controller to send out enough power to your trailer brakes so that they are activated with an intensity that matches. The result is uniform braking across your towing setup. No push-pull action – just smooth, proportional braking every time.
Tow-Pro Elite Operation
The dash-mountable control knob makes it easy to control your trailer's brakes. In addition to offering fast, simple power adjustment, this knob has an LED indicator that changes color to display different information about the controller.

While the unit is initially calibrating, the LED light will signal its progress. The LED display will flash green/blue as it seeks to take in information about your vehicle's direction and speed. When the display turns solid blue, the system is set and functioning completely in proportional mode. After this process is complete, the unit will remain calibrated for the next time that you tow. If recalibration is required, it will happen automatically and without LED indication.
You can use the knob to set the maximum amount of power that will be applied to your trailer's brakes. Typically, this power is only readjusted when you experience changing road conditions or if you switch over from a heavy, loaded trailer to a much lighter, empty trailer, or vice versa. To get more power to your brakes, rotate the switch clockwise. To decrease the power output, rotate it counterclockwise.

When you apply the tow vehicle's brakes, a red LED light will inform you that power is being sent back to the trailer brakes. As you increase the power with the control knob, the light will glow brighter, indicating the increased braking power.
Should you want a higher degree of control over the trailer's braking, you can use the control knob to switch over to user-controlled braking mode. To change modes, rotate the knob counterclockwise and apply your vehicle's brakes. Then push down on the remote knob twice (2 times within 1 second) and release the brakes.

User-controlled mode is signaled by a green LED. In this mode, the Tow-Pro Elite will apply your trailer's brakes with the same preset amount of power each time you activate the brakes in your vehicle. While in user-controlled mode, the braking power can be adjusted by turning the control knob in the same manner as when you are in proportional mode.
Having this level of control over your braking is particularly beneficial when overlanding or towing a trailer off-road because you may need to alter the trailer's braking based on the specific terrain and situation that you find yourself in. Set the power low if you're towing through sand or mud so that the trailer doesn't stop with too much force and act as an anchor on your vehicle. When on a steep descent, set the power to a higher level to ensure that the trailer's momentum doesn't cause it to push against the tow vehicle.
The Tow-Pro Elite gives you easy access to manually apply the trailer brakes without using the tow vehicle's brakes. To engage the manual override, just push down on the control knob. This will activate the trailer's brakes, helping you to control its momentum.
The manual override will activate your trailer's brakes differently depending on the mode you have selected. While in user-controlled mode it will apply the brakes at the power level set on the control knob to ensure a predictable braking response. When in proportional mode the manual override will activate the trailer brakes in a light manner, which is great for limiting trailer movement while you're cruising.
Simple, Out-of-the-Way Installation
Unlike most proportional controllers on the market, the Tow-Pro Elite has almost no mounting restrictions. It comes in 2 pieces – the main electronic unit and the control knob. Because the only part that you need to be able to access is the control knob, the main unit can be mounted in an out-of-the-way location. So you no longer have to worry about a bulky brake controller scraping against your leg or causing interference with your vehicle's lower airbags.

The dash-mountable control knob can be mounted in a convenient spot that is easy for you to see and access. This can be a blank switch panel, an open area on your center console, or wherever there's space on your dashboard. A universal mounting panel is included to ensure a clean, from-the-factory look. Custom-fit panels are available for certain T1N 2001-2006 Sprinter Van as well.

Once you have determined where to mount the control knob, you will want to find a good place to install the main unit. The only mounting restriction for the unit is that the included 3′ plug-in cable is able to reach between the main unit and the knob.
Thanks to the 3-axis accelerometer, the main unit can be positioned at any angle. There is also an active calibration feature, which constantly evaluates the direction of travel of your vehicle. This enables the unit to recognize any change in position that may have resulted from potholes or back-country roads and automatically correct itself. Because this feature can read the direction of travel, the main unit can also be mounted facing any direction, allowing for even greater flexibility in mounting.

The included wiring harness hardwires into your T1N 2001-2006 Sprinter Van wiring and then plugs directly into the T1N main unit. You can also use a vehicle-specific wiring harness (sold separately) to cut down on installation time. These harnesses are available for most newer trucks and SUVs. One end of the custom harness will plug into your vehicle, and the other end will hardwire onto the Tow-Pro harness that plugs into the main unit. Once all connections are made, securely mount the box using screws or double-sided tape. Do not zip-tie the box to wiring or cables that can shift as you drive.
For assistance in properly wiring the Tow-Pro Elite, please refer to the diagrams below: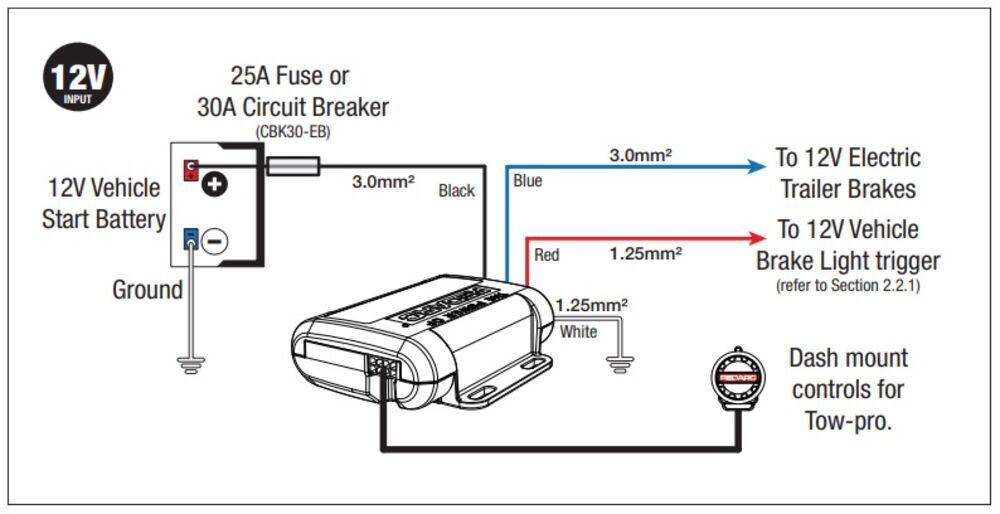 Installation Accessories
See t1nparts.com's exclusive 7- and 4-way brake-control installation kit (ETBC7 – sold separately) if you don't already have a 7-way plug at the back of your vehicle.
Note: A 30-amp circuit breaker kit (331-CBK30-EB – sold separately) may be required for installation.
EBRH-ACCV3 REDARC Tow Pro Elite Trailer Brake Controller – 1 to 3 Axles – Proportional
Replaces Redarc 331-EBRH-ACCV2