Description
Skyloft / Thule Roof Deck Rack System & Roof Nesting kit for your T1N 2001-2006 Sprinter Van
So many types of Tents available for your Needs, We have 10+ Brands available. Contact us for an estimate today.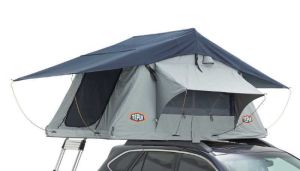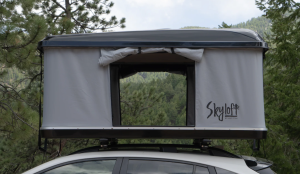 Thule Tent – TH8KSKz4 w/ HF half Rack & Deck.
Roof Top Tent
3 Person
Gray
Thule
4 Season
600 lbs
1 Door
This rooftop tent can accommodate up to 3 people. Good for camping year-round in any climate. Includes foam mattress and storage pockets. Haze gray color.
Features:
Rooftop tent lets you camp out from an elevated position on top of your vehicle
Can accommodate up to 3 people
Constructed to withstand the elements of any season

Made from coated 600 denier and a 260g poly-cotton blend
Tent fabric is both UV and mold resistant

Mesh panels offer plenty of ventilation and open for more airflow
Features 4 large internal pockets for storing gear and camping accessories
Includes a high-density foam mattress for added comfort
Includes mosquito screens to protect against insects
Annex (sold separately) provides additional space, privacy, and protection from the elements
Haze Gray color
Specs:
Dimensions (open): 96″ long x 56″ wide x 52″ tall
Dimensions (closed): 48″ long x 56″ wide x 12″ tall
Weight: 119 lbs
Weight capacity: 600 lbs
Sleeping capacity: 3 person
Peak internal height: 52″
Sleeping footprint: 96″ x 56″
Minimum crossbar spread: 33-1/2″
Maximum crossbar dimensions: 3-1/4″ wide x 1-1/2″ tall
2-Year warranty
Note: This tent is compatible with roof racks that install on raised side rails, flush side rails, or in fixed mounting points. It is not compatible with roof racks for naked roofs that clamp to door jambs, flush roof racks with no overhang, or factory roof racks. When used on vehicles with raised side rails, the rails must be supported.
Rooftop Tent Basics
To be able to use this tent on your vehicle, both your roof and your aftermarket roof rack must have a minimum load capacity of 165 lbs. This weight capacity, also known as dynamic weight capacity, is the maximum weight your roof and roof rack can safely support while the vehicle is in motion. If your setup meets these requirements, then you should be able to safely hold the tent and occupants when your vehicle is stationary. The stationary capacity, or static weight capacity, won't be listed in your vehicle's manual or your roof rack's installation instructions. Instead, it is determined by the 165 lbs minimum load carrying capacity explained above.
THE SKYLOFT ROOFTOP TENT
Experience outdoor adventure like never before with our flagship rooftop tent. With an aerodynamic fiberglass shell and quick mounting system, installation is effortless. The interior comes loaded with pockets, hooks, and a storage net, all finished with a thick mattress (which includes a removable and washable cover). Our customers love the quality and ease of their adventures with our tent. Upgrade your road trip experience with the Skyloft. Adventure awaits!
Sleeps two comfortably
Works with all vehicle types
Works with all crossbar types (universal mounting)
3-inch thick mattress
Interior pockets, storage net, and hooks for optimal storage
MATERIALS
The Exterior is comprised of an aerodynamic and sturdy fiberglass shell. The wall material has a waterproof rating of 3000mm and is a tough 280-gram polyurethane-coated cotton blend.
The Skyloft has a doorway with mesh and canvas on either side of the tent with an awning on the driver's side. The two submarine windows on both ends are perfect for additional airflow or just for checking out the views.
Every Skyloft is shipped with a sturdy and lightweight 8.5′ telescoping ladder that comes with a storage bag and can be stored right up in the tent.
QUICK AND EASY INSTALL – On all cars, SUVs, and trucks. The Skyloft comes with universal mounting hardware to be quickly and easily installed on all crossbar types.
SETS UP IN A JIFFY – Equipped with gas struts, the Skyloft can be set up in a matter of seconds. Remove the straps and give it a push. The struts will take care of the rest for you.
NO NEED FOR EXTRA STORAGE – With the additional space in the Skyloft when closed, store your open sleeping bags and camping pillows right up there.
DIMENSIONS
Closed Exterior Dimensions: 84″L x 55″W x 12″H
Interior Open Dimensions: 82″L x 52″W x 36″H
Empty Weight: 120 lbs