Description
Sikaflex® P2G window sealant for Conversion Van Windows
for AM Auto & CR Laurence Windows for Sprinter Vans, Transit and Promaster Vans.
TAX INCLUDED PRICING
IN STOCK SHIPS BY NEXT BUSINESS DAY
If you purchase windows from us. Ask for a $10 off Coupon. (2 or more Tubes)
PRIMERLESS WINDSHIELD ADHESIVE
Sikaflex® P2G is a primerless to glass, one component, cold-applied, fast curing, high-viscosity polyurethane adhesive designed for use in replacing direct glazed automotive glass parts. When used as directed, Sikaflex® P2G is an appropriate adhesive for use in auto glass replacement applications.
Primerless to glass
6 Hour Minimum Drive Away Time (MDAT); tested according to FMVSS 212
Short cut-off string
PRODUCT BENEFITS
Primerless to glass
6 Hour Minimum Drive Away Time (MDAT); tested according to FMVSS 212
Short cut-off string
Cost effective
Usage
Sikaflex® P2G has been specifically designed for the Automotive Glass Replacement business. It is ideal for mobile and in-shop installations. This product is to be used by professional, experienced users only. Related process information in this PDS is specifically for Automotive Glass Replacement. For other applications, tests with actual substrates and conditions have to be performed to ensure adhesion and material compatibility.
Product Details
Chemical base
1 component polyurethane
Color (CQP001-1)
Black
Cure mechanism
Moisture-curing
Density (uncured)
1.3 kg/l
Non-sag properties
Excellent
Application temperature
Product

Ambient

Substrate

10 – 35 °C (50 – 95 °F)

4 – 43 °C (40 – 110 °F)

4 – 54 °C (40 – 130 °F)

Skin time (CQP019-1)
30 minutes A
Open time (CQP526-1)
15 minutes A
Shore A hardness (CQP023-1 / ISO 7619-1)
65
Tensile strength (CQP036-1 / ISO 527)
5 MPa (750 psi)

Elongation at break (CQP036-1 / ISO 527)
400 %
Tensile lap-shear strength (CQP046-1 / ISO 4587)
3 MPa (400 psi)

Minimum Drive Away Time (cars) according FMVSS 212 (CQP511-1)
See Table 1
Service temperature (CQP509-1 / CQP513-1)
-40 – 93 °C (-40 – 200 °F)
Shelf life (CQP016-1)
9 months B
| | | |
| --- | --- | --- |
| CQP = Corporate Quality Procedure | A) 23 °C (73 °F) / 50 % r.h. | B) Stored below 25 °C (77 °F) |
Application
Surface Preparation
Surfaces must be clean, sound, dry and free from all traces of traditional and non-traditional contamination. All corrosion must be removed and all bare metal scrapes and scratches must be prepared in accordance with Sika's Corrosion Treatment recommendations. For preparation of all bonding surfaces it is required to read and understand the instructions given in the Sika AGR Technician Training Manual. Windshields without ceramic coating need proper UV protection.
Application
Cut off the tip of the nozzle in accordance with the vehicle manufacturer's recommendations and screw onto the cartridge or the unipack adapter.
It is recommended to apply the adhesive with a piston-type application gun. To ensure a uniform thickness of adhesive bead, we recommend that the adhesive be applied in the form of a triangular bead (see fig. 1).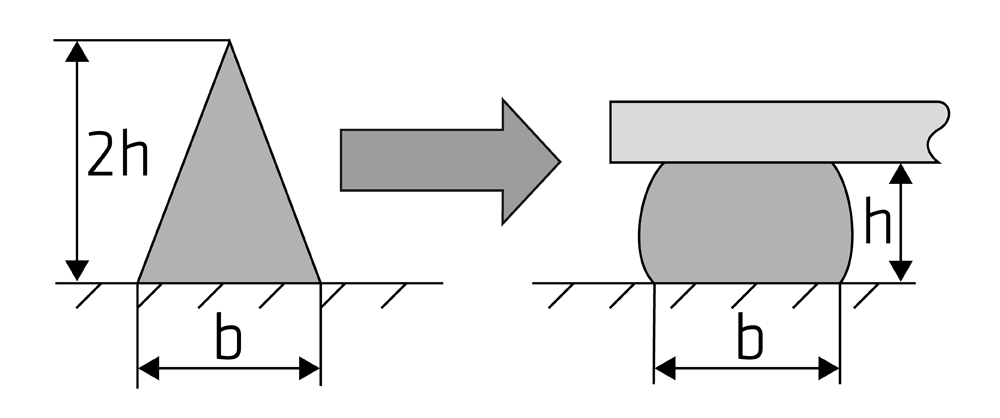 Figure 1: Compressing adhesive bead to final size
Removal
Uncured Sikaflex® P2G may be removed from tools and equipment with Sika® Remover-208 or another suitable solvent, such as mineral spirits. Once cured, the material can only be removed mechanically.
Hands and exposed skin have to be washed immediately using a suitable industrial hand cleaner and water.
Do not use solvents on skin.
Application Limits
Avoid contact with alcohol and alcohol containing solvents during cure.
Do not apply over silicones or in the presence of curing silicones.
Glass parts must always be installed within the open time. The open time is significantly shorter in hot and humid climates. Never install any glass part after the product has built a skin.